ABOUT US
Display America (DA), established in 2003, is a Family Owned Business based in Orlando, FL. Founded by Carlos Quiñones, a native of Puerto Rico who followed his vision and belief in the power of great interactions and the art of making customers feel connected to a brand.

Today, the DA team combines over 50 years of experience in designing, producing and managing corporate exhibit programs. With over 5,000 indoor, outdoor, portable and modular products, DA prides itself on providing the utmost quality and service.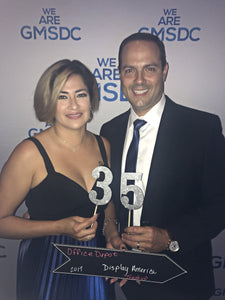 OUR TEAM
Display America boasts an exceptional team of dedicated professionals who are the driving force behind our success.
Our talented designers bring creativity and innovation to the forefront, transforming ideas into visually stunning and impactful displays that captivate audiences.
Our account management team is the bridge between your vision and our execution. They work closely with you to understand your goals and objectives, ensuring that our creative solutions align with your strategic vision.
Our project managers are the glue that holds everything together, meticulously overseeing each project from concept to completion.
Last but not least, our installers are the hands-on experts who bring our designs to life in the real world. They are skilled professionals with a keen attention to detail, ensuring that your displays are installed perfectly, whether it's at a trade show, retail space, or any other location.
OUR PARTNERS
DA has partnered with businesses of all sizes and across many industries to strategically, seamlessly, and simply transform brand experiences in face-to-face settings.
OUR PARTNERS